Research
Dr. Y. Charles Cao
Professor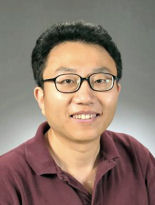 University of Florida
Department of Chemistry
PO Box 117200
Gainesville, FL 32611-7200 USA
352-392-9839 (voice)
352-392-0588 (fax)
email: cao@chem.ufl.edu
office: LEI 226
Ph.D., Jilin University
Analytical Chemistry and Nanomaterials
Our research interests focus on addressing the problems that are at the interface of nanochemistry and bio-analytical chemistry. Combinations of biological and material components with complementary properties will be developed as powerful tools for fabricating functional nanostructures and characterizing the biological world. In particular, our research starts from three directions: nanocrystal synthesis, nanocrystal assembly, and nanocrystals for use as biological markers.
Mechanistic Understanding of Nanocrystal Growth

A critical step toward the utilization of particles as the building blocks in nanotechnology is the synthesis of well-defined (size and shape) semiconductor nanocrystals with high quantum yield emission as well as magnetic nanocrystals with high coercivity. This step would greatly benefit from a systematic study of nucleation and growth of inorganic nanocrystals. Research in our group focuses on developing synthetic methods for making narrow band-gap III-V and IV-VI semiconductor nanocrystals. These nanocrystals can emit in the near-IR spectral regime, which is of particular importance for biological labeling.

Anisotropically Surface-Functionalized Nanocrystals

Proteins, the biological analogs of nanocrystals, are able to spontaneously assemble into various complicated large structures. These structures possess well-defined sizes and shapes based on the surface domains present on the individual protein monomers. The key feature of proteins, allowing them to achieve such self-assembling, is that there are generally two or more recognition sites located at geometrically specific positions on their surfaces. Herein, we borrow this strategy from nature and use it to control the assembly of nanocrystals. In this project, we aim to develop a strategy for the synthesis of anisotropically functionalized nanocrystals. Like their biological analogs, the resulting particles are expected to generate a wide range of architectural morphologies in a self-assembly fashion (e.g., lamellar phases, spherical and rod-like micelles).

Multi-functional Nanocomposites for Use as Biological Markers

Nanocrystals have demonstrated their potential to replace molecular fluorophore probe technology in the field of biological labeling and imaging. However, current nanocrystal markers have the drawbacks of slow recognition kinetics and high non-specific binding. To solve these problems, a combinatorial approach is proposed here to fabricate multi-functional nanocomposites for use as biological markers. These nanocomposites can be polymer spheres encapsulating two different kinds of nanocrystals (e.g., magnetic and fluorescent). After surface chemistry modification, these composite polymer spheres will then be developed as highly sensitive, target-selective, and controllable biological markers for both in vitro and in vivo assays.
Selected Publications:
"Controlling Anisotropic Nanoparticle Growth through Plasmon Excitation", Jin, R.; Cao Y. C.; Hao, E.; Mtraux, G. S.; Schatz, G. C.; Mirkin, C. A. Nature, 2003, 425, 478.
"Nanoparticles with Raman Spectroscopic Fingerprints for DNA and RNA Detection", Cao, Y.C.; Jin, R.; Mirkin, C.A. Science 2002, 297, 1536.
"Photoinduced Conversion of Silver Nanospheres to Nanoprisms", Jin, R.; Cao, Y.; Mirkin, C.A.; Kelly, K.L.; Schatz, G.C.; Zheng, J.G. Science 2001, 294, 1901.
"Growth and Properties of Semiconductor Core/Shell Nanocrystals with InAs Cores", Cao, Y.; Banin, U. J. Am. Chem. Soc. 2000, 122, 9692.
"Identification of Atomic-like Electronic States in Indium Arsenide Nanocrystal Quantum Dots", Banin, U.; Cao, Y.; Katz, D.; Millo, O. Nature 1999, 400, 542.